A few weeks ago, I had the opportunity to attend the second workshop on mobile financial services (MFS) organised by the Union for the Mediterranean, with representatives from the central banks of Egypt, Jordan, Morocco and Tunisia. This workshop examined the role of microfinance institutions (MFIs) in the mobile money value chain. In this blog, I want to share some highlights from this workshop and discuss the example of Tunisia, where two MFIs have recently started to digitise loan disbursements and repayments through mobile money.
Leveraging mobile financial services for microfinance: the importance of collaboration
Around the world, MFIs are starting to look at the opportunity of using mobile technologies to drive operational efficiencies and to expand their customer base. There are different ways MFIs can get involved in the MFS space as shown in Figure 1:
MFIs can act as agents for existing mobile money providers. In this case, MFIs would offer cash-in and cash-out services at their branches for mobile money customers, resulting in an increased traffic at MFI branches, while creating a new revenue stream for MFIs as they would get a commission for each mobile money transaction that occurs at their branches.
Another interesting approach is where MFIs work with mobile operators to build innovative credit scoring models using telco data. These models allow to extend access to credit while keeping low rates of non-performing loans.
Finally, MFIs can use mobile money to digitise loan disbursement and repayment. To do so, MFIs have the option to build their own mobile money service; however,experience and research has shown that they are generally not well placed to do so, as MFIs usually do not have the technical, financial and managerial capabilities to set up and manage mobile money services. Instead, MFIs should consider leveraging existing mobile money services available in markets where they operate. This solution is also the most common, and in Tunisia, two local MFIs, ENDA and Taysir, recently decided to follow this route, and started partnerships with Ooredoo and La Poste to use their mobile money service, Mobiflouss.
Figure 1: How MFIs can leverage mobile financial services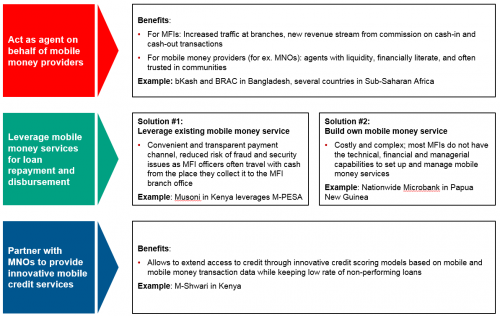 The example of Tunisia
The microfinance sector in Tunisia is currently served by five providers; ENDA, the incumbent leader, has a base of approximately 240,000 active customers. In September 2015, ENDA started to work on a pilot with Ooredoo and La Poste to digitise loan disbursement and repayment through Mobiflouss.
Launched in June 2014, Taysir is a new MFI that decided to go cashless from the start, following the model of Musoni in Kenya, where all transactions are conducted through mobile money. This model offers a number of benefits, including allowing customers to consult their balance and make repayments 24/7 while helping Taysir to save on infrastructure costs. This model has proved particularly relevant for serving rural areas, where more than 60% of Taysir's customers are based.
Initial insights from market research conducted by the MFI indicate that customers are generally satisfied with this model:
90% of clients surveyed find the system simple and easy to understand;
80% of clients surveyed are able to make their payments via mobile money and are able to check the menu after the third repayment
Since its launch, Taysir has supported more than 3,250 people. Finding the right business model that allows customers to use the service at a low cost, improving the customer experience, as well as continued technical investments to ensure a smooth integration with Mobiflouss will be critical to successfully scale up Taysir's digital microfinance model.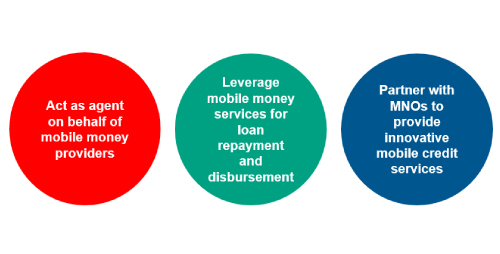 For Ooredoo, the partnerships with ENDA and Taysir are critical to help them deepen their reach in rural areas. While these partnerships are very recent, Ooredoo's objective is to help digitise loan disbursement and repayments for all MFIs in the country. In addition, Ooredoo is also looking at developing new services for MFI customers, such as specific merchant payment and transfer solutions, to empower them to fully participate in the digital economy.
The importance of enabling regulation to accelerate the digitisation of MFI loan disbursements and repayments
While these initiatives are very encouraging, a more enabling regulatory frameworkaround mobile money is required for these initiatives to reach their full potential in Tunisia. Specifically, the current regulation restricts the deployment of mobile money agent networks outside of bank branches and postal offices, which limits access to MFS for customers who do not live near such branches. However, outsourcing customer registration, cash collection, and disbursement activities are absolutelycritical to lowering the cost of financial services, expand their reach and accelerate financial inclusion.
In addition, all mobile money accounts are linked to postal prepaid card accounts or bank accounts in the current framework, which is creating a complex user experience for unbanked customers, as their loans are issued by bank transfer on a postal prepaid card, which they must purchase in advance at a postal office. Allowing mobile operators and other non-banks to provide mobile money services independently of existing prepaid card solutions and to appoint non-bank agents for cash-in and cash-out would help provide more relevant services to the unbanked and underserved citizens of Tunisia. In a country where over two-thirds of adults are financially excluded or underserved, the development of mobile money can play a critical role to accelerate financial inclusion.